Tessa Pearson: Her 'Long Road'
Tessa Pearson will always remember her husband on that big day.
A look of pride spread across his face as he helped her slip into her black graduation gown outside UNCG's auditorium. He didn't say a word. He didn't need to. Geoff knew the sacrifices Tessa had made.
He saw it firsthand.
Tessa was a full-time mom, raising their two children, and she was a full-time student, chasing a dream she didn't think she could reach.
But she did.
She went back to college after nearly 20 years away from the classroom. Her academic journey culminated on a Thursday in May 2016.
She stood outside of UNCG's auditorium on Tate Street and got ready to receive her master's degree in social work from the joint program run by UNCG and N.C. A&T.
That's where she saw the look on Geoff's face.
She understood. She felt the same way.
 "It was a feeling of excitement and pride," she says. "It had been a long road."
That long road began with one conversation.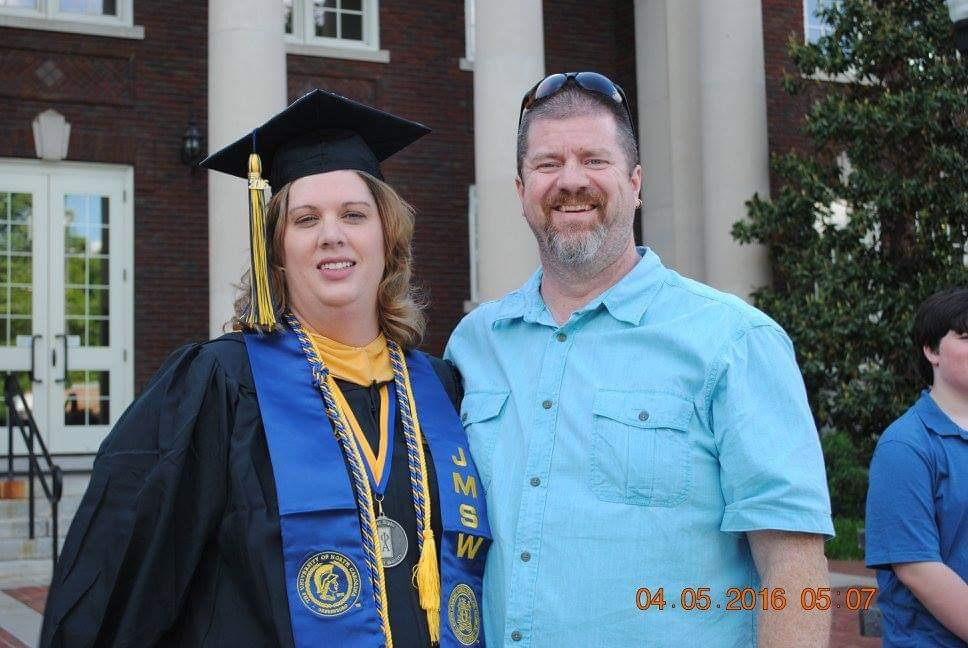 Tessa Pearson stands with her husband, Geoff, minutes after receiving her master's degree in social work in May 2016.
The Impact of Five Words
Tessa and her friend, Melissa Fox, had a rare day together.
Their husbands were watching their children. So, the two went to lunch, went shopping and arrived back at Melissa's house when Tessa confided in her friend something she hadn't told anyone.
Tessa had made a vow to herself that she needed a plan when her youngest child went to elementary school. And Jack, her youngest, her only son, was going to enter kindergarten in at least nine months.
So, she told Melissa how counseling had helped her and Geoff when they were dating and how she had always wanted to make a difference in people's lives ever since she was young.
Tessa knew she could confide in Melissa. She was a therapist.
"I'm really scared to say this out loud, and I haven't told anybody this," Tessa told her. "But I really want to be a therapist."
"You'd be a great therapist," Melissa told her.
That comment surprised Tessa. But that show of confidence from a friend made all the difference.
"It made sense to me," Tessa says today. "It went from pie in the sky to be really feasible for me."
But Tessa was 38, and she had her share of doubts.
All she had to do was look back at her own life and wonder, "Can I do it?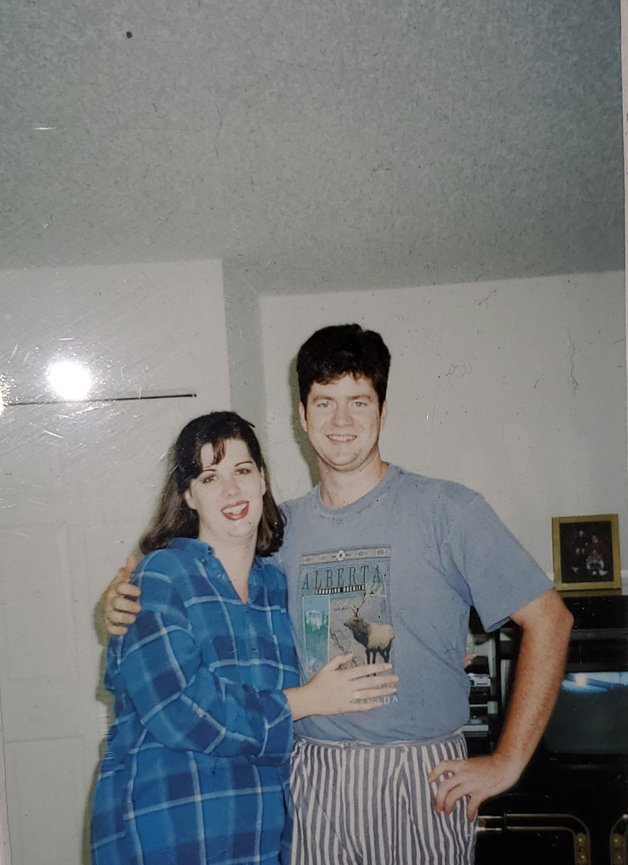 Tessa Pearson met her husband,Geoff, in Charlotte. This photo was taken two months after they started dating. 
Taking That First Step
 Tessa first thought she'd become a stage manager.
But after studying theater for two years, she dropped out of Western Illinois University. She loved the theater, but she hated the academics. So, she left – or as Tessa says, she "flamed out."
After Western Illinois, she moved back to Charlotte, and moved in with her grandfather to find a new direction in her life.
She did enjoy Charlotte. She was born there and had lived there until she was 13 when her mom married her stepfather. She then bounced from Connecticut to Texas and finally Illinois because of her stepfather's sales job with a chemical company.
Tessa longed for stability in her life. But she didn't think about starting a career. She simply thought about finding a job. And in Charlotte, Tessa found a few. She worked as a nanny, a pre-school teacher, an administrative assistant and a receptionist.
Tessa also found a hockey-playing husband from Canada.
Her roommate set her up. In 1995, on Memorial Day, she walked into a restaurant and bar known as Lanny's and met Geoff. Right then, she knew.
"I think Geoff is going to be an important person in my life," Tessa told her mom a week or so after they met.
Three years later, in a tiny chapel in downtown Charlotte, Tessa and Geoff got married. Their daughter, Tindall, was born a year and a month later. And Jack arrived five years after that.
Tessa became a stay-at-home mother because she could. Her mom, Lin, couldn't. Lin was a single mom, working in human resources and raising two children on her own until she got remarried when Tessa, her youngest, was 13.
In 2003, Tessa and Geoff moved to High Point for Geoff's job in information technology. Geoff was an IT expert; Tessa was a mom. She enjoyed raising Tindall and Jack. Yet, once her youngest entered school, she wanted to find a career that suited her.
Her friend, Melissa, helped. Tessa took the leap and enrolled in GTCC.
Her decision was indicative of that well-known saying from long ago about a journey of a thousand miles.
It begins with a single step. In August 2009, Tessa took that first step.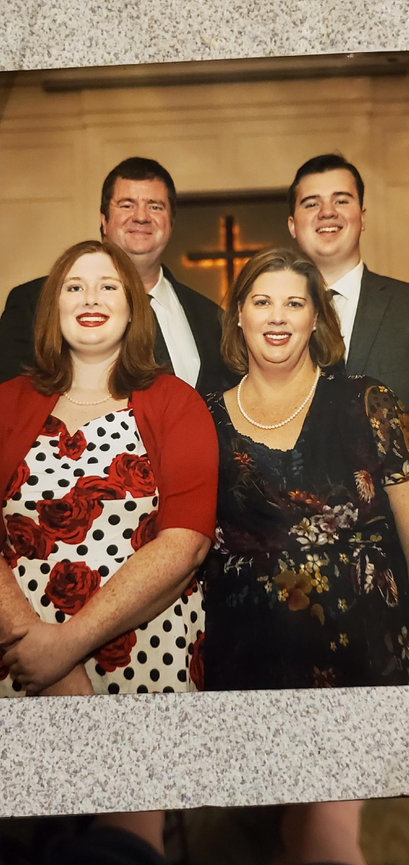 When Tessa Pearson first went back to school, she made sure almost of all her classes at GTCC were when her kids, Tindall and Jack, were at school. Left to right in this family photo, taken in October 2019, are Tindall and Tessa in the front row and Geoff and Jack behind them. 
Tessa's Laser Focus
 At GTCC, Tessa stuck out.
She had turned 39 in April and started school that August. She was nearly twice as old as the students surrounding her. She could only transfer grades from two history classes at Western Illinois to GTCC. Tessa was essentially starting over. And she struggled.
"I had bought into this idea that I didn't know if I could do it," Tessa says today. "I had been away from school for so long, and I was afraid I needed to take a smaller step, and as difficult as GTCC was sometimes, it was imperative.
"I needed to build up my confidence, and it gave me that. I realized I was no longer that kid who put other priorities in front of academics. At GTCC, I became laser-focused."
Still, Tessa says, her time at GTCC didn't get easier. It just wasn't because of the courses she took.
"It took me the first two years at GTCC to balance out the pressure on myself," she says. "I had to do a lot of work on myself because I saw myself as the person who failed the first go-round, and I had to tell myself, 'This is who I am now.'"
Tessa had to reshuffle her life. During her three years at GTCC, she made sure almost all of her classes were scheduled when Tindall and Jack were at school so she could be home when they arrived.
But once she enrolled at UNCG in August 2012, her schedule changed. She had to take classes when Tindall and Jack were home from school. But they were older, and they could take care of themselves. Meanwhile, Tessa had a goal. She wanted to graduate.
Like GTCC, UNCG was difficult. She received her first C, and it was in a psychology class – her major. But Tessa was unfazed.
"I knew what I wanted to do," she says, "and that didn't waver."
In May 2014, she received a psychology degree from UNCG. Three months later, she enrolled in the master's degree program in social work run by both UNCG and A&T. Two years after that, she completed the program.
She had just turned 46, and she proved something to herself.
She could do it.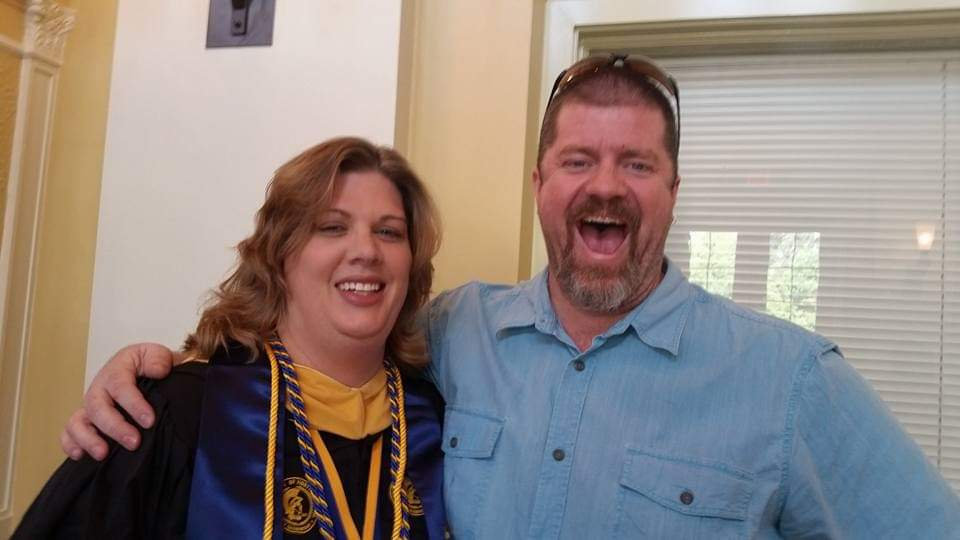 Tessa Pearson stands with her husband, Geoff, minutes before she received her master's degree in social work in May 2016 in the UNCG Auditorium.
'Look What We Did'
 On that Thursday in May 2016, Tessa stood outside the UNCG Auditorium surrounded by people she cared about.
Her husband and their children. Her sister, her brother and his wife. Her parents. And her friend, Melissa, whose vote of confidence started Tessa's academic journey seven years before.  Melissa came with her husband.
Tessa wanted them all there because they mean something to her. And like the time she met Geoff in Lanny's in 1995, she knew she would remember this moment forever.
"It was important for me to say, 'Hey, I did this!'" Tessa says. "I'm no longer that screwup from 20 years ago. And the other part of it was I wanted my children to see all that hard work we went through paid off.
"They went through this, too, on Saturdays and Sundays when I was holed up getting my work done. My husband and my children went through this for me, and I wanted us to celebrate and say, 'Look what we did!'"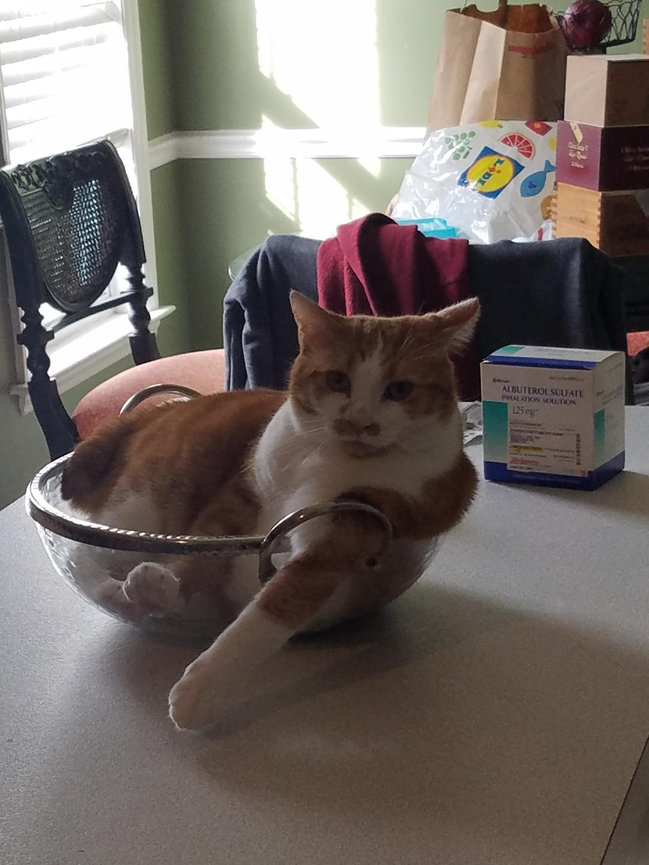 The Pearson family have three cats. Sonny, the one in the photo, is their newest, and his favorite place in the house is the lounge in a bowl on the island in the kitchen.ium
On Tessa Pearson
Family: Geoff, IT architect; Tindall, 20, a junior at Appalachian State University; Jack, 16, sophomore at Middle College at UNCG
Pets: Three cats -- Stella, Will and Sonny
Hobbies: Travel, spending time with her children and going shopping.
A fun fact: Tessa enjoys going shopping with her family and taking selfies with them as they try on the ugliest sunglasses and the ugliest hats they can find.
Her perfect day: "I love the days when my entire family gets together for a backyard barbecue, and there's a lot of laughing and eating. I love those days. We're all together, and I feel we're in that moment together. It's not about the next thing that's going to happen."
Her job with Family Solutions: Outpatient therapist working with various ages in the Archdale office
Her work is important to her because … "It fills that piece of me that wants to be of good use to other people, and in turn, I think those other people are good to me. I learn from them, and they learn from me. I always want to be evolving, and this work is an incredible catalyst for that."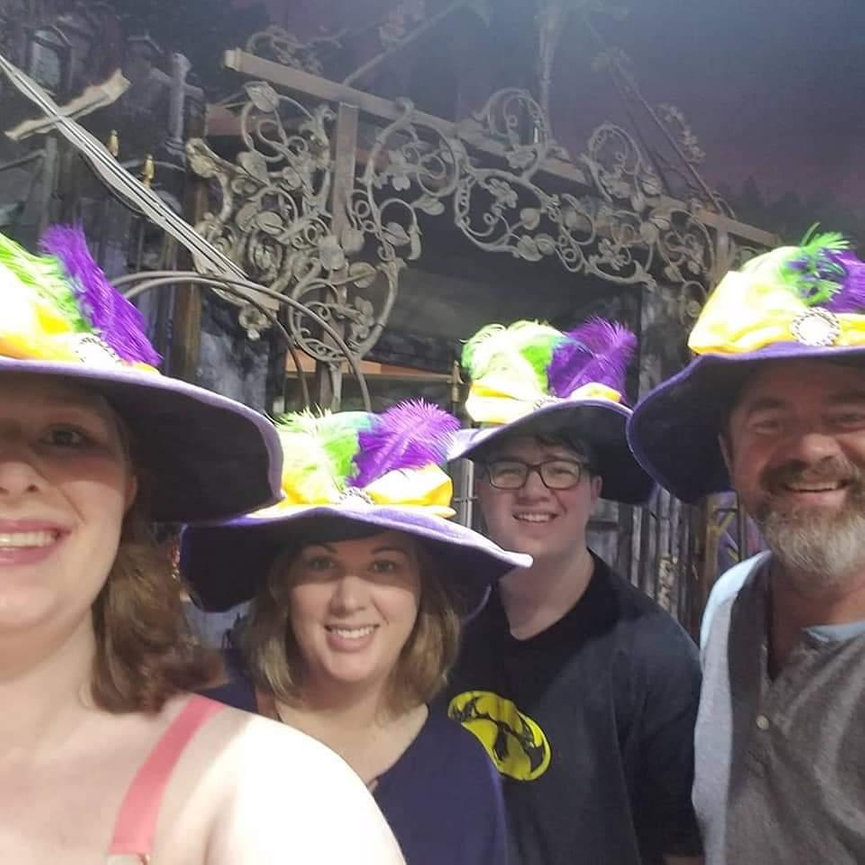 The Pearson family like to try on outrageous hats and take photos of themselves. In this photo, they tried on hats in March 2019 in New Orleans before they went on a cruise. Left to right are Tindall, Tessa, Jack and Geoff.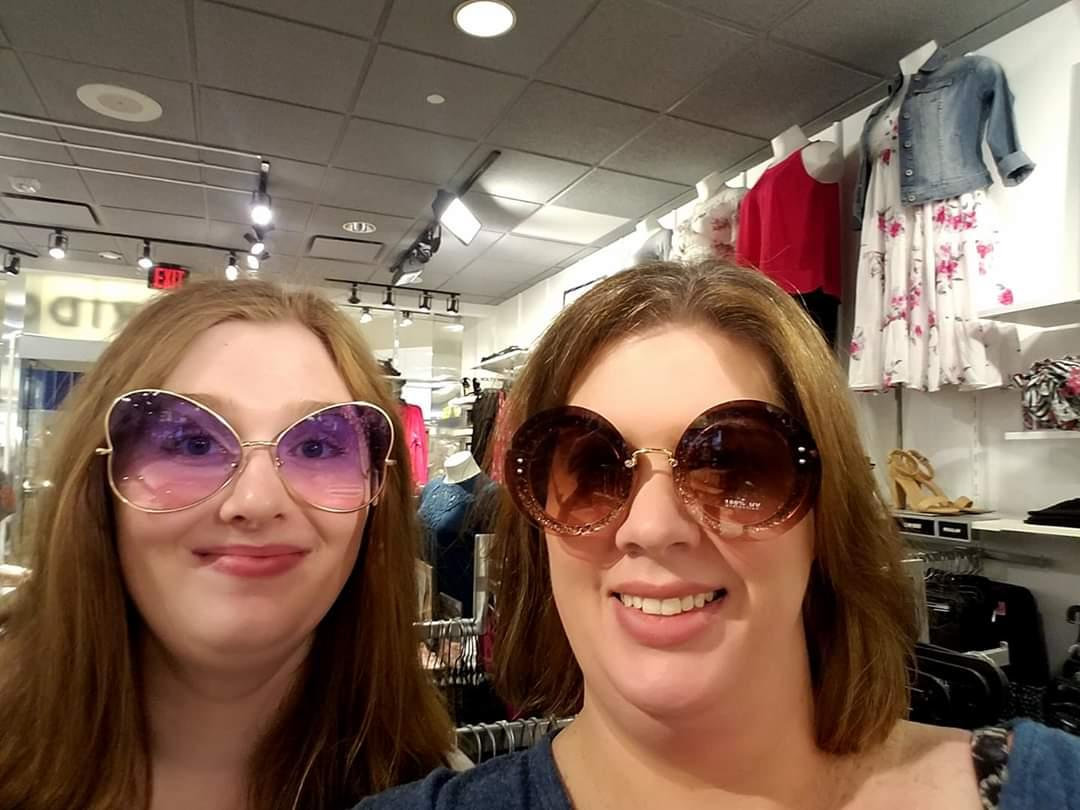 Tessa Pearson (right) and her daughter, Tindall, like to take selfies of themselves where outrageous sunglasses. This photo was taken a couple of years ago when they were shopping in Four Seasons Mall.