One question changed Markela Batts' life.
She had graduated with a degree in recreational therapy from Winston-Salem State, and she got her first job with Amos Cottage, a program that works with children with behavioral challenges.
Markela had interned there her last semester, and she liked it. Then, one day after the children had left, she got the question from Casey Johansen, who was watching her work.
Johanson is a clinical social worker, and she saw something in Markela. So, she asked.
"Is this work something you're interested in?" she asked Markela.
That's all it took.
Markela enrolled in a satellite program that UNC-Chapel Hill operated out of Winston-Salem to help college graduates receive a master's degree in social work. Markela's decision made her dad proud.
Her dad is a big fan of UNC's basketball team. But Markela's decision to enroll had more to do with her favorite TV show, "Law & Order: SVU" than the storied tradition of Tar Heel basketball.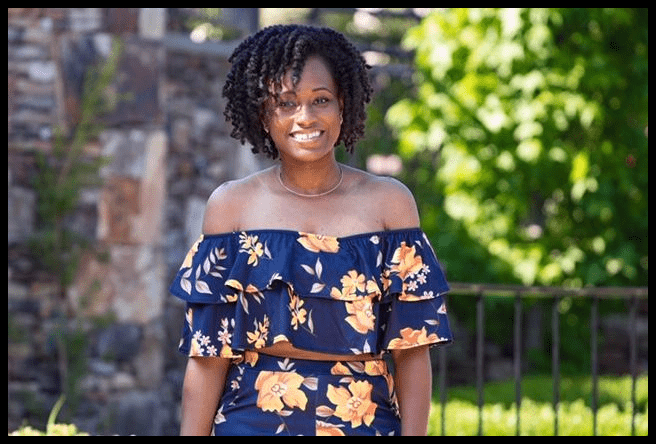 A Therapeutic Sleuth
Markela grew up 40 miles east of Raleigh in a rural stretch of land in Wilson County. She's the oldest of four, growing up first in Elm City and later Wilson, and she liked nothing better than watching "Law & Order: SVU" in her bedroom and playing detective.
She played other things, too.
She played basketball at Beddingfield High. She was a shooting guard. But by her junior year, she gave up basketball to be the school's drum major and play the flute and piccolo in the school's concert band.
When Markela was choosing colleges, she steered clear of UNC. She, in her own words, "chickened out." She was the first generation in her family who chose to go to college, and the whole college application process was so new to her, and UNC was so big.
So, she enrolled in Winston-State State University. She thought she'd study music and become a band director. Instead, she chose to major in recreational therapy.
Like with "Law & Order: SVU," Markela liked the detective aspect of her major. She got to figure out what a child and their family needed.
In the spring of 2012, her last semester at WSSU, she interned at Amos Cottage, and she worked with at least a dozen children with behavioral challenges.. She worked with large groups as well as an individual child, and she did everything from having them play dodgeball to dreaming what they wanted their house to look like.
Markela excelled. She graduated in May. By August, Amos Cottage had hired Markela. She stayed there three years, and during a time when she used sand trays as therapy, she fielded Johanson's question.
Then, the next chapter in her life began.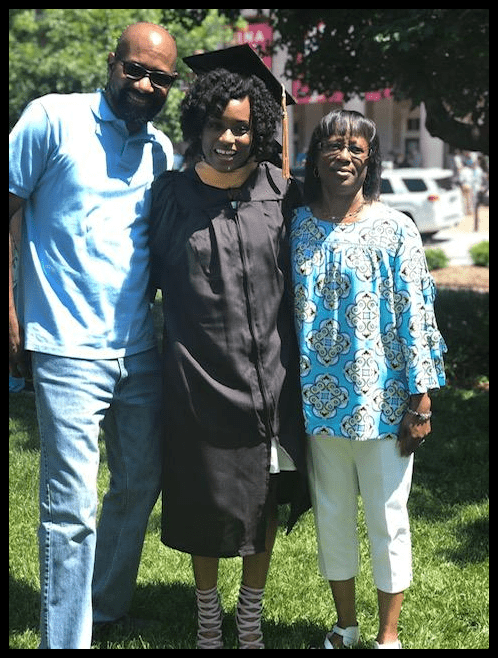 Markela stands with her parents, Willie and Tammy, at her graduation from her UNC-Chapel Hill in May 2018.
A Crucial 'Listening Ear'
Johanson became a mentor in Markela's life. And for Markela, a mentor is what she needed.
"She always was a listening ear," Markela says today. "I was talking to my really good friends who were wrapping up their master's degree or who had already finished. But I was a first-generation college graduate, and nobody in my family had a social work degree.
"So, to have someone say, 'Here are your different avenues,' that eased some anxiety and fear for me," she says. "When I start something different, I always go to my emotions, and I have these moments when I second-guess myself.
"But I had someone to bounce ideas off of, someone who had already been there."
That was Johanson. She was working with UNC's satellite program in Winston-Salem, and she knew the professors and knew the program when she told Markela about it.
That surprised Markela.
"I just looked at that program the other day," Markela told Johanson. "Must be fate. I have to go to that school now."
She applied, and she got in.
Markela was going to Chapel Hill after all.
"It was like a confirmation," she says. "It all aligned with where I needed to be."
The Big Moment in Chapel Hill
Markela spent her first two years with the UNC program in Winston-Salem. By the third year, she was a full-time student who commuted from her townhome in High Point to Chapel Hill, and in May 2018, she graduated with a master's degree in social work.
When she walked across the stage, the shouts of "Woooo!" came loud.
One came from Candace Jolly, one of her best friends and her roommate at WSSU; the other from her Aunt Cynthia.
"She's always been kinda loud," Markela says. "I can pick out her voice."
She saw her dad on the right side of the stage, and she spotted her mom and stepdad on the left side of the stage. They both were smiling, both clapping, both celebrating with their oldest girl.
Two months later, she joined Family Solutions as an outpatient therapist.
"People around my age are constantly searching for their purpose or their reason for being here on this earth," says Markela, who will turn 31 on June 26. "They don't know what they want to be. So, I feel grateful. I feel this is my purpose, my calling."
Calling?
"I've had people tell me that," she says. "This (work) comes naturally to me. I read; I do the research; I write; and I take notes. Writing helps me remember. But when I interact with the kids, I don't have to think about it."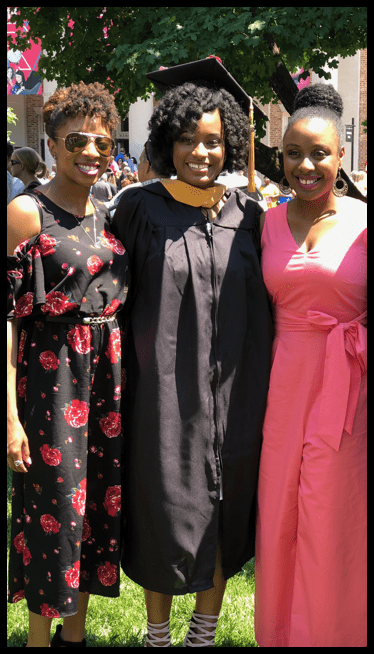 Markela graduated with a master's degree in social work from UNC-Chapel Hill. Two of her best friends from Winston-Salem came to see that happen. From left to right is Doriece Pittman, Markela and Candace Jolly.
Her Littles, Her Views
Markela works with children as young as 3. She has a name for them: Littles.
She does love her Littles.
"I like to see them develop and grow," she says. "Their brains are like sponges, and they are soaking up everything around them. Plus, they're funny and cute. They do mature the fastest, and I treat them like my own."
Her interests include working with teachers and students in classroom settings as well as working with children and families dealing with all sorts of trauma.
And as a young black woman, she sees African-Americans failing to deal honestly enough with trauma, particularly in the church.
And Markela does know the church.
She grew up in the Faith Temple United Holiness Church. Her mom told her that her first trip to church was in her car seat. Since that time, Markela has sung, danced, directed the children's choir and given the church announcements.
But what has always bothered her is how she saw church members failing to address some sort of trauma that has affected one or more of their members. They'd simply pray about it and let it go.
 "It's just a lack of information," she says. "Even working with my Littles, some of the parents are frustrated and overwhelmed with parenting, and they don't understand why kids have these behaviors, and they don't think that it could be that they're living in a homeless shelter or not knowing where they'll eat the next day or that their dad could be incarcerated.
"People don't know how that impacts a four-year-old's brain."
Markela uses all kinds of tools to help the children she sees. That includes Wally, a puppet she uses to show her young clients how to calm down and how to play appropriately with friends. 
The Impact of One
Markela admits she has her own struggles because she gets attached to some of the children she sees. Ask her about that, and she tells the story of one of her clients.
She worked with this client for more than a yea.. They became close, and they talked about much. Markela talked to the client's family about much. That's why a recent tragic event was so heart-wrenching for Markela.
The client died from a longtime physical illness.
She asked Chris and Anita Faulkner, the husband and wife who run Family Solutions, if she could go see the family. They said yes. So, Markela went.
When she walked up to the house, she saw the mom talking to somebody. The mom turned around, saw Markela and hugged her.
"It's good to see all the important people show up in this way," the mom told Markela.
The mom cried. Markela cried, too. But she knew.
She had made the right choice. She had come.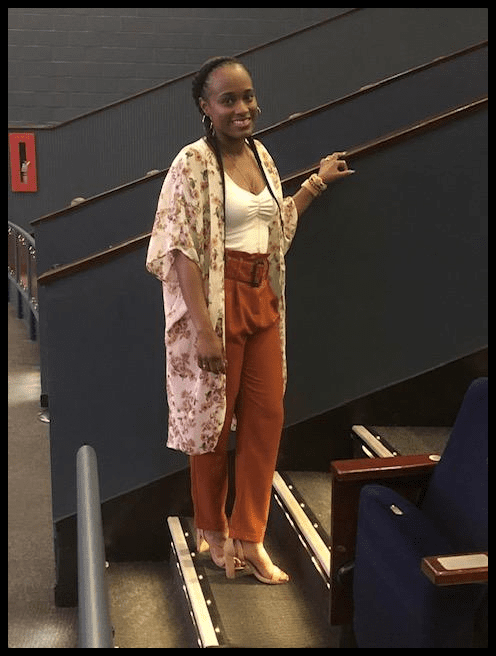 Markela graduated with a degree in recreational therapy from Winston-Salem State and a master's degree in social work from UNC-Chapel Hill.
Jeri Rowe, a longtime journalist, is the senior writer at High Point University.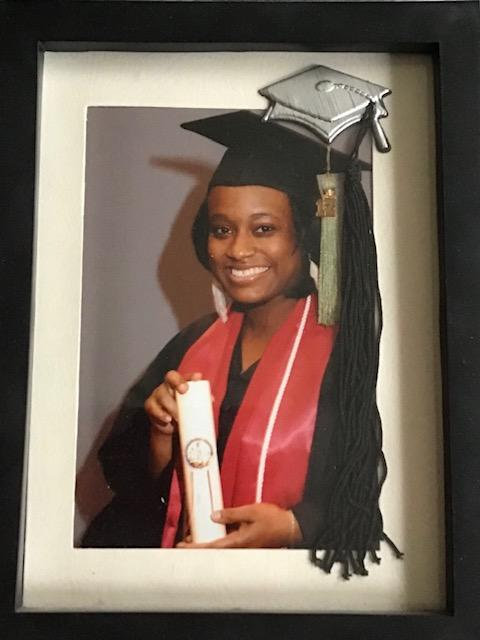 Markela's graduation photo from Winston-Salem State sits on her bedside table at her town home in High Point.
On Markela Batts
Family: Mom, Tammy, an assistant daycare director; Dad, Willie, an airplane mechanic; stepfather, Walter, who works in construction; brother, Lamonte, an airplane mechanic; sister, Bria, an IT technician; Tiara, a rising sophomore at Winston-Salem State studying social work.
Pet: Her roommate's Yorkipoo named Kenzu
On her bedside table: a lavender-scented candle, a graduation photo from Winston-Salem State, an alarm clock and a series of books, including the "Family Business" series from Carl Weber
Hobbies: high-intensity workouts, reading, singing, coloring, traveling
A fun fact: Growing up, she'd watch UNC basketball games with her dad, and he would stand in front of the TV pacing back and forth. He was too nervous to sit down.
Her perfect day: "I'd get up mid-morning and travel to the beach and make sure I have enough food and snacks and drinks, and I'd stay out there for hours. I've had friends say, 'Do you want to do something else?' and I say, 'No, I'm going back out in the sun.''
Her job with Family Solutions: Outpatient therapist working with various ages in the High Point office
Her work is important to her because … "It's needed, and I feel like I get the opportunity to be an advocate for people in vulnerable situations."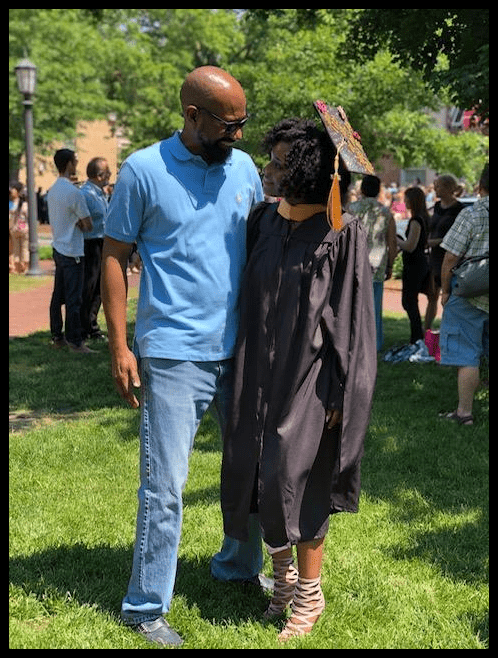 Markela, with her father at her 2018 graduation from UNC-Chapel Hill, grew up watching Tar Heel basketball games with her dad. When she did, he would stand in front of the TV pacing back and forth. He was too nervous to sit down.