Samantha Dunn: An Answered Prayer
On her bedside table, in the frame "Home is where MOM is," Samantha Dunn keeps a photo of her three children.
There's her daughter, Reagan. She's 6. And her daughter, Peyton. She's 3. And her son, Lucas. He was born April 1.
Samantha does enjoy her kids. She'll take them on a walk in and around Gibsonville.
They'll go wherever, sometimes as long as 90 minutes. Her two daughters will be in the double stroller, her son will be a baby carrier, strapped across her chest, and she'll be walking Tru, one of the family's three dogs.
Those walks are important to Samantha. She connects with her children, she connects with herself, and she sees the benefit of choosing a career that balances her need to be there for her children as well as be there for families in need.
But she didn't know that at first. She needed help. She found an answer through one of the oldest advice routes around.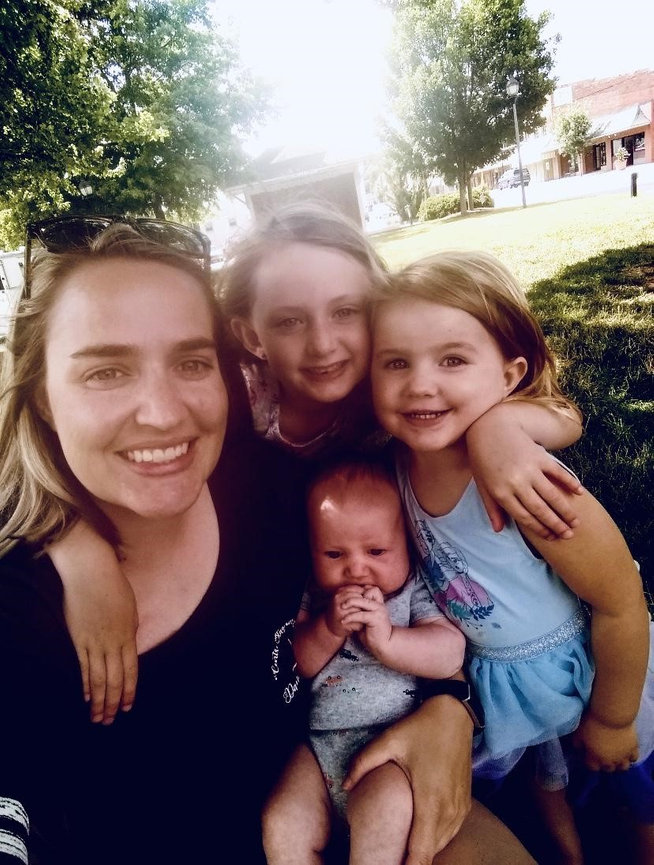 Samantha chose social work because she wanted to help families in need as well as help her children, Reagan, Peyton and Lucas.
Dear God
Samantha grew up in Durham, the youngest of two. Her dad ran his own produce business, and her mom worked first in the schools as a teacher's assistant. She later obtained a degree in nursing and became an orthopedic nurse when Samantha was 16.
Samantha always knew she wanted to help people. That was a given. When she was really young, she thought she'd be a veterinarian. But when she got older, she thought more and more of following her mom's route.
She wanted to be a nurse. Or so she thought.
So, after graduating from Northern Durham High in June 2006, she enrolled at UNCG to study nursing.
After two years, though, she found nursing wasn't for her. She couldn't understand it. She had worked so hard to get into UNCG's School of Nursing, and after two years, she found herself feeling a little like Moses.
She felt lost in her own desert.
Samantha asked herself tough questions.
"What is my purpose?"
"What should I be doing in my life?"
"What am I supposed to do?"
She couldn't find any answers.
She was stressed. She felt like she was wasting time and wasting her money. But once she acknowledged that to herself, she felt at peace and started looking within to see what brought joy to her life. 
She took two years off from college, began working as a lifeguard at Bryan YMCA and taking general education classes at GTCC to get them out of the way.
She knew she was going back to college to find her career. But in what?
She needed guidance. She talked to her parents, and she talked to the leaders of Lawndale Baptist, the church she attended while in college. Meanwhile, she prayed. And she prayed everywhere, even out loud driving around Greensboro in her bright yellow Chevrolet Cavalier.
The prayer was always the same.
"God, you know I can be a nurse, but that is not at all what I want to do," she said. "Will You help me figure out what I can do in the future? How I can best serve You?
"God, tell me what you want me to do?"
Samantha got an answer. She looked backward.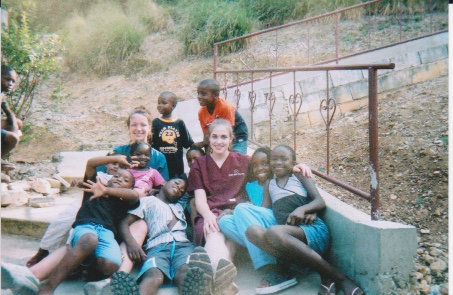 Samantha went with her church to Jamaica to work with children from a local orphanage. In this photo, she's with the children from the orphanage as well as Ali Williams, a friend from church. 
The Mission Trip Lessons
Samantha went on four mission trips as a teenager with Durham's Ridgecrest Baptist.
She helped fix up homes in Philadelphia, helped rebuild homes in New York City and went to Jamaica and carried out activities with children in an orphanage.
She also went to the African country of Botswana. She and other church members brought them food, toiletries and other supplies. She also shared her faith with people she didn't know. They had nothing in common -- except what they followed and how they prayed.
 As she wrestled with where to go next after nursing, Samantha kept coming back to those mission trips.
"I was looking back at those trips because they had a lasting impression on me," she says today. "I kept thinking about being around other people and helping improve situations in their lives. I really wanted to do something like this long term, and I started investigating how I could make a career out of this.
"That's when social work was brought to my attention, and I could see myself doing that long-term."
Why?
"I could give of myself and have an impact on other people and also give back to the community," she says. "I also could learn from others and have compassion for others."
Her compassion, Samantha found, came from her faith.
"I grew up reading story after story in the Bible about Jesus walking with people different from Himself," she says. "He used himself to show what it was like to love others and bring in others to know and love God."
In 2010, Samantha went back to UNCG and majored in social work.
"Oh man, it felt like such a relief," she says. "I was back in classes that felt so natural. I wasn't struggling anymore."
And once again, Samantha prayed.
"God," she said. "Thank you so much for guiding me on the right path to where you wanted me to be."
In May 2013, Samantha graduated with a degree in social work. That was a big month. But it wasn't just because she received a degree that created her career.
No, it was because of something else – or really someone.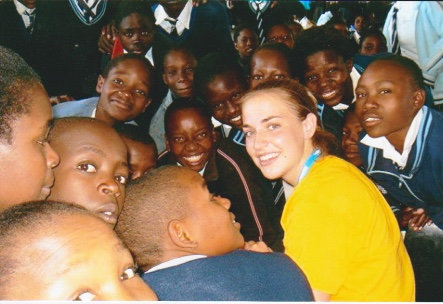 Samantha went on four mission trips with her Durham church. In this photo, she's with the children she met in Botswana. 
A Barefooted Memory
In 2010, as she was studying social work at UNCG, Samantha was working part-time as a lifeguard at Bryan Y when Mike came in one afternoon for a swim.
"Would you save me if I was drowning?" he asked her.
Samantha blew him off.
"Oh, just leave me alone," she said to herself.
Mike didn't. He talked to her every time he came in for a swim, and over time, she warmed to him. Mike asked her out; Samantha said yes; and they went to a movie and shared table at Chick-Fil-A.
A year later, Mike and Samantha were engaged.
By May 2013, right after Samantha graduated, she and Mike got married barefooted 20 steps from the Atlantic at Ocean Isle.
Soon after, her social work career started.
During her undergraduate years at UNCG, she had gotten a taste of working with foster children during an internship she had with Guilford County's Department of Social Services. She found she had a real passion for helping children who feel abandoned.
After her graduation, she turned that passion into a full-time job. She became a foster care social worker for Alamance County's DSS. She saw firsthand how she could turn those lessons she learned from her mission trips in high school into action.
Day after day after day.
"I really felt like there is so much that can be done to help children and their families," she says. "Many of them are separated because of the lack of resources and the lack of extended family support. If we can help these children and their families use their strengths to improve their situation -- and decrease the level of stress within their family unit -- then they will have more time to focus on their attachment, support and love for one another.
"And that will provide children with a strong foundation for a successful life."
How?
"If we don't feel loved and accepted, it's really hard for us as human beings to find out what we are meant to be in life," she says. "And if we can help these kids feel seen and loved, they will be able to grow into adults who feel that love in themselves."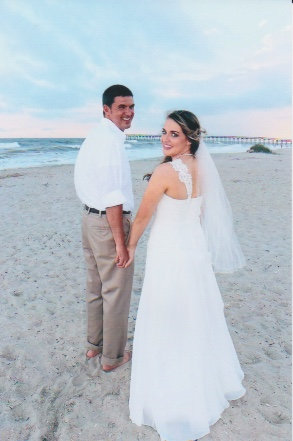 Samantha and Mike got married in May 2013 at Ocean Isle 20 steps from the Atlantic Ocean. They were barefooted. 
A Little Boy's Discovery
Samantha had spent almost two years at Alamance County's DSS before she left and went back to school to get her master's degree in social work at N.C. State. When she graduated in 2016, she found herself at another professional crossroads.
She and Mike were now parents to Reagan, their first child. They both wanted their family to grow, and Samantha wanted to be there for them. She remembered how crucial her mom's presence was when she was growing up. She wanted to follow suit.
So, with a master's degree in hand, she yearned to find that elusive sense of work-life balance. So, she went looking. That's how she found Family Solutions.
She knew Chris and Anita Faulkner, the husband and wife who run Family Solutions. She had met Anita after one of her presentations. So, she called Chris to see about the possibility of a job.
She found out the agency's therapists work under contract. They set their own schedules and work the hours they can.
Samantha came onboard in 2016. She's been at Family Solutions ever since.
Since then, Samantha's family has grown. Her experiences have grown, too. Ask her about them, and she'll mention a 5-year-old she recently worked with for a year.
When she began seeing him, he was described as defiant and uncontrollable. She saw him every week for an hour. She worked with his teachers, she'd sit in on his classes, and she worked with him through play therapy so he could learn how to handle his emotions.
The boy is now in first grade. He's doing better. Samantha heard about it through a text from the boy's mom. She also told Samantha her son wanted to see her. So, Samantha went to the school. The boy met her at the front door.
His eyes wide with a big grin spread across his face, the boy had to give her some news.
"Miss Samantha," he blurted out, "I got student of the month!"
Samantha loves moments like that.
On Samantha Dunn
Family: Mike, court services specialist with Guilford County; two daughters, Reagan, 6; and Peyton, 3; one son, Lucas, born April 1.
What's on her bedside table: Meg Meeker's book, "Strong Mothers, Strong Sons: Lessons Mothers Need to Raise Extraordinary Men," a coaster showing a photo of her and Mike at her cousin's wedding and the photo from Mother's Day, showing her three children in the frame "Home is where MOM is."
Pets: Three dogs – Tru, a pit bull mix; Zoe, a chihuahua; and Ellie, a Labrador mix. Two cats – Connor and Cobain. A hedgehog named Hazel.
A fun fact: The Dunns got Hazel through Samantha's uncle. Her uncle, a postal carrier, has been delivering mail in one particular section of Durham for more than 30 years. When Reagan was interested in getting a hedgehog, Samantha mentioned it to him, and her uncle said he knew of someone who raised hedgehogs on his route. "He knows all of them (on his route), and he has tons of stories," she says.
Hobbies: Coloring, drawing, walking, sewing, making quilts and watching UNC-Chapel Hill basketball.
Her car: A grey Kia Sorento with two car seats and Cheerios and toys on the floor. "My kids will tell me, "Mommy, I can't find …' something, and I tell them it's probably in the car."
Your perfect day would be … "Just being able to hear the ocean on a warm sunny day and having fun with my family."
Her job at Family Solutions: Mental health therapist, mental health consultant and  in-home therapy services program coordinator.
What I do in my work is important because …"Children I work with are our next generation, and they can take what I do with them now and use it for their future. What I'm doing is teaching them skills that'll help them improve their emotional regulation in order to discover who they are as a person. They can use that when they grow into adults and figure out what their purpose in life is."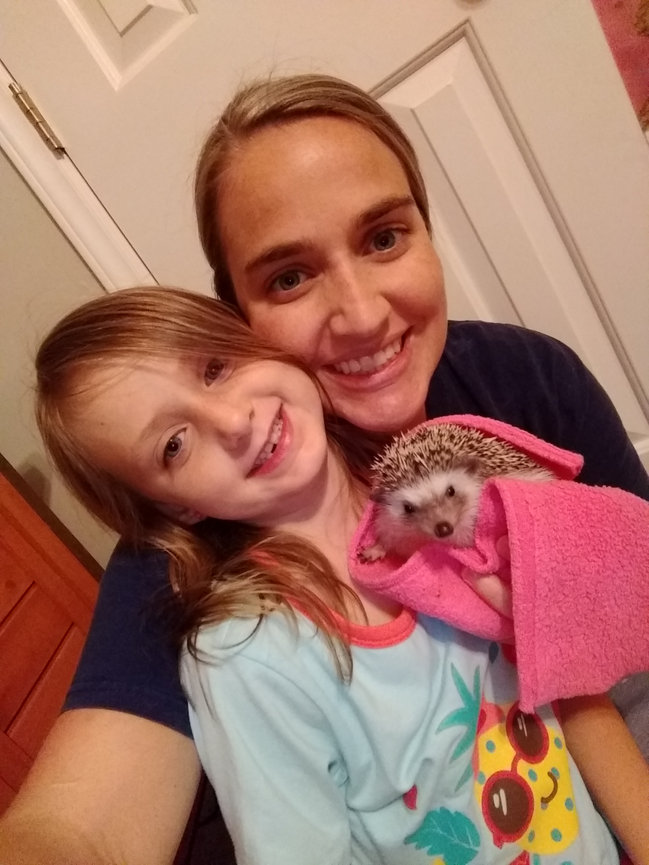 Reagan keeps her hedgehog named Hazel in her room.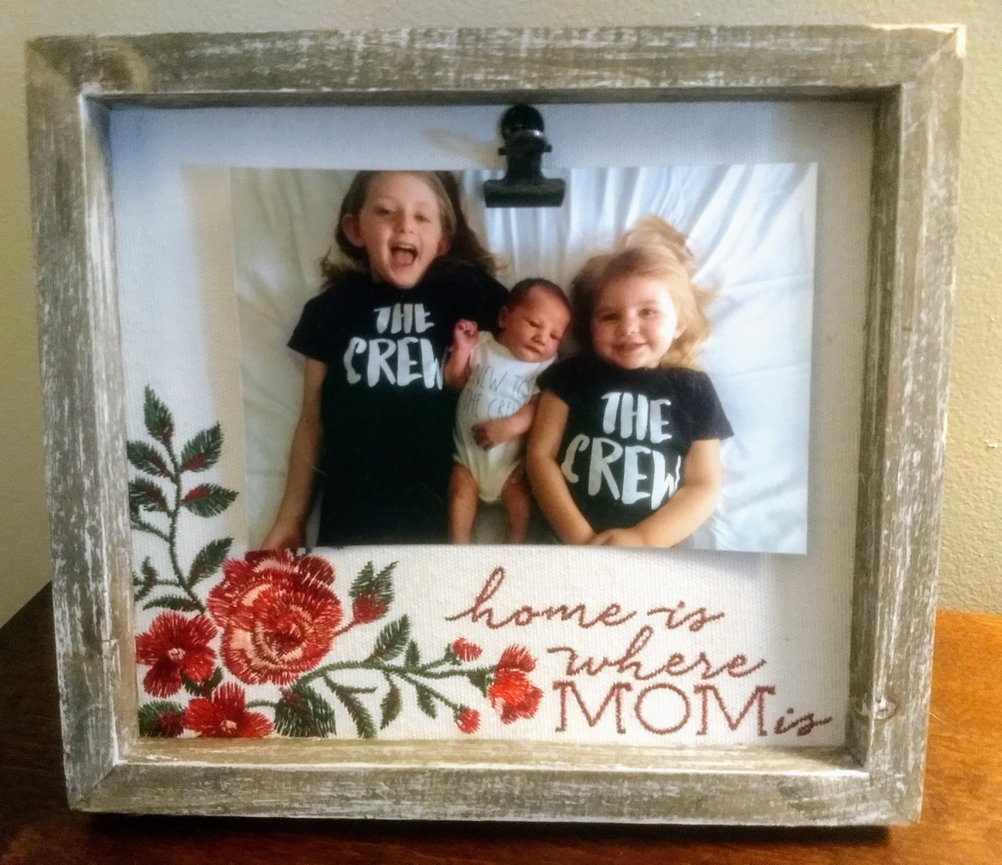 Samantha keeps this photo on her bedside table. It helps remind her what is important in her life.